GADII'AHI / TO'KOI CHAPTER GOVERNMENT
COVID TEST KITS AVAILABLE
Days: Monday – Friday
Time: 8:30 am – 11:45 am
            1:00 pm – 4:45 pm
Test Kits Provided by the Northern Navajo Medical Center.
CURBSIDE SERVICE ONLY
Chapter is Operating Curbside Only Until Further Notice
For Service: Call 505-635-0620
Text 505-635-0579
Email gadiiahi@navajochapters.org
Agriculture Infrastructure Fund
Applications available at the Gadii'ahi/To'koi Chapter.
Please got to the 'Forms and Links' Tab for more information.
2023 Winter Emergency Applications
CJA-03-23 Allocated $20,530.74 to the Gadii'ahi/To'koi Chapter for Emergency Assistance to the Community.
Chapter Allocated Funds to Emergency Heating Assistance. Applications will be available for pic-up at the Chapter. Call for more information
Agricultural Burn Permits
Available on the Forms and Links page or pick-up at the Chapter House
FOLLOW US ON FACEBOOK
Stay up to day on postings, COVID Vaccine and Test Kit Information, Scholarship/Employment Availability and Chapter Meeting Reminders.
GADII'AHI/TO'KOI CHAPTER MONTHLY MEETINGS
---
PLANNING MEETING           February 09, 2023 @ 7:15 pm via Zoom
REGULAR MEETING             February 16, 2023 @ 7:15 pm via Zoom
PLANNING MEETING           March 09, 2023 @ 7:15 pm via Zoom
REGULAR MEETING              March 16, 2023 @ 7:15 pm via Zoom
Zoom Meeting INformation
Meeting ID: 759 589 8803
Passcode: 874201
Phone: 346-248-7799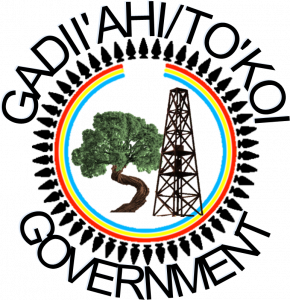 Harry Descheene
Gadii'ahi/To'koi Chapter President
Arnold Nelson
Gadii'ahi/To'koi Chapter Vice-President
Sylvia Tyler
Gadii'ahi/To'koi Chapter Secretary/Treasurer
 Ronney Dee
Gadii'ahi/To'koi Chapter Farm Board
Lucinda Lee
Gadii'ahi/To'koi Chapter Grazing
Amber Crotty
Council Delegete